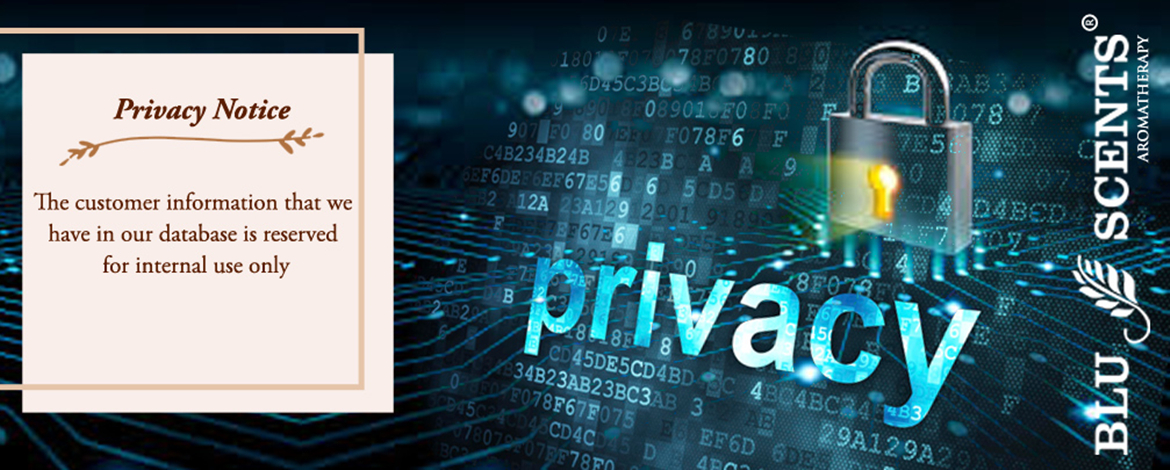 At Blu Scents Aromatherapy Sdn Bhd, we take the protection for your Personal Information (such as name; address; phone number; date of birth; e-mail address; Identification number; gender) very seriously.
The customer information that we have in our database is reserved for internal use only, we do not sell or hand out this information to anybody, meaning that we keep that information confidential. This information is only needed in order to get to know you better and to find ways to improve our service quality. Furthermore, we only save data to the extent that it is technically and commercially necessary.
Use of Your Information
We use information held about you: To complete transactions with you and manage your membership of our customer loyalty scheme where applicable; to ensure that content from our Site is presented in the most effective manner for you ; to provide you (by post, electronic or other form of communication) with information you request from us; and to notify you of changes to our services; to customise the advertising and content you see, to fulfill your requests for certain products and services, and to contact you about specials and new products; to enable you to participate in promotions and contests; to respond to requests or complaints.
We may communicate with you through a variety of channels, including through our stores, our customer loyalty schemes, and through the internet: website and social media channels like Facebook, and through a variety of means such as post, email, phone, WhatsApp, or text message, subject to your preference. You may unsubscribe at any time by writing to us at info@bluscents.com.my in the manner explained in our communications.
Other Websites
Our Site may contain links to and from other websites over which we have no control. The operators of these sites may collect data from you in accordance with their own privacy policies for which we do not accept any responsibility or liability. Please check these policies before you submit any personal data to such websites.
Protecting Your Personal Data
We use a variety of security measures, including sophisticated encryption and authentication tools to maintain the safety of your personal information. Your personal information is contained behind secure networks and is only accessible to a limited number of persons who have special access rights to such systems and are required to keep the information confidential. Regardless of these efforts, no data transmission over the Internet can be guaranteed to be 100% secure.
Changes To Our Privacy Policy
We reserve the right to change our Privacy Policy from time to time. We encourage you to refer to this on an ongoing basis so that you understand our current Privacy Policy.
Contact
We welcome your questions, comments, and concerns about privacy, Terms of Use. Please send us any and all feedback pertaining to privacy, or any other issue to info@bluscents.com.my